~Tribute Material~
Spoiler:
Name:
Higure Tatsuda
Age:
16
Gender:
Female
Village:
Missing Nin
Rank:
Genin
Title:
Voice:
Sunset Shimmer
Alignment:
Chaotic Neutral; Neutral Angry;
Neutral Hawt
Theme Songs:
Spoiler:
Clan:
Tatsuda
and
Kazehana
(Wears  Tatsuda clan Crest on the chest area of her blouse.)
Bloodline:
Lava Release, Magnet Release
Element(s):
Katon, Doton, Wind
Skill(s):
Bloodline,
Stats


Strength: E

Constitution E

Stamina: C (450)

Speed: D (150)

Coordination: D (150)

Intelligence: C (450)

Perception: D (150)

XP Advance: 300
Unique Abilities:XP Debt:
"I was raised pushing my nose to the grindstone. But skill comes at a cost."
Higure before running away from home, was a highly studious Kunoichi. Focusing on Building her vast intellect and Chakra Control, but as a result. She had neglected other parts of her training.  Gain a 300XP debt.
Official UA Guideline Version.
Spoiler:



Experience Advantage: A player may start with more experience that can be applied to their total. This amount may never be enough to advance into the next class and can always fall short by 1 experience. Doing this will put the player in debt, thus all generated experience must go towards paying off that experience debt before it can be applied anywhere else.

This can also be done if a player only wishes to gain a little more experience at the start. If the player chooses to start with equal or less than 50% experience for their next class requirement only half of the generated experience will go towards this debt. This UA can only be taken at creation and may not be added later.

______
Runaway Noble:
"I'd rather runaway than be banished!"
Being a runaway is a harsh existence. It takes a lot more work to grow as an individual, and money is a lot harder to come by for a person used to a certain lifestyle.
Higure needs 50% more XP to rank up, and gets 50% less income from activity checks.
______
Bloodline Ace:
"My Clan is the Tatsuda. What, you didn't think maybe I might specialize in certain kinds of Ninjutsu?" She rolled her eyes. "It's just that, well...it's not exactly Ninjutsu you can use regularly. Or safely."
Higure was born with a natural inclination towards her bloodline making Lava Release Elements cost 1 rank lower. But Ninjutsu not related to those elements cost 1 rank higher.
When using  Lava Release Elements. Cost is Tier -1. All other Ninjutsu is Tier +1 in cost.
_____
Major Flaw: Stupidity Aneurysm:

"Uh… right…" Higure replied, her expression tightening. "Both aneurysms were caused by sheer stupidity," she informed.

When confronted by something honestly stupid, moronic, or foolhardy. Blood violently ejects from her nose, and her body to collapse. This lasts for one post / stupid thing around her.
Mechanic wise:
Reduces CP by 10% and caused 1/10th blood loss, and collapses.
__________
Golden Radiance:
"I love the colors of my flames it really brings out my hair."
While hot blooded, passionate, and sometimes quick to anger. She truly comes from a place of caring and with her heart (even if not her actions) in the right place.
This inner light shines brightly in the flames she produces.
Mechanics wise
:
Jutsu Flavor UA
With Katon and Lava, the reds become muted, and the yellows become a brilliant gold. With the light they give off being golden in color. This only changes appearance of fire or lava with no change to how it acts.
__________
Band of The Loving Warrior
: When using Magnrt Release. Rather than Dark Bands, she has a deep red one around both eyes that bridges across her nose. (Visual UA. No effect past that).
_________
Bloodline Abilities
Lava Release unbought.
Magnet Release unbought.
Appearance: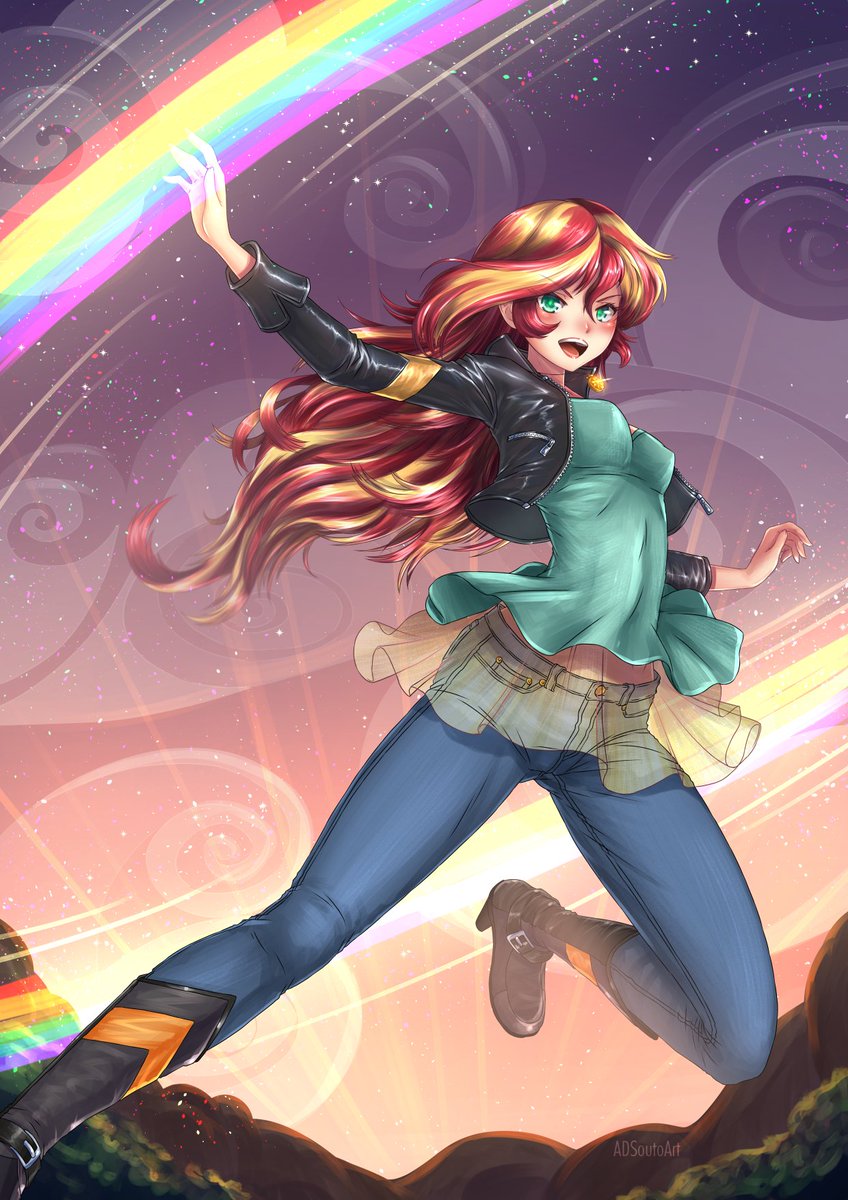 (Higure Tatsuda differences with above pic. All of the blouse is green. No necklace. And
the Clan Crest on the chest.
)
Hair
: Fiery (red with yellow flame streaks).
Eyes
: Metallic Cyan (
her cyan eyes have a metallic sheen to them.
)
Height
: 5' 4"
Weight
: 120 lbs.
BWH
: 33C-24-33

Physical:
Higure Tatsuda has brilliant metalic cyan eyes that have a resplendent light within them. Her long hair is a brilliant crimson red, with flame-like yellow streaks throughout it proudly displaying her passionate nature.
Standing at 5' 4" and all legs, she's the living incarnation of sex on fire, with a bikini model body. She moves with practiced grace and ease, from a lifetime of training.
Clothing:
Higure Tatsuda wears a black leather jacket with a golden chevron on each arm. A green blouse, jeans, and black leather boots each sporting a chevron.
Swim Suit:
Higure's swim suit is a two piece leather bikini. The top having a stylized sun and all of it held together with gold studs.
History:
Higure was born to a Branch Family, where her metalic teal eyes made her family hopeful that she would raise their standing in the main family. Even if her hair showing proudly her fiery nature was outside the norms of the clans usual more muted appearance.
As she grew older she was raised on the proud history of the Clan's main family, and their ancient heritage. Her nose pressed to the grindstone to bolster her mind and spirit in hopes of awakening the promised talent.
With the promised potential to rise in ranks of the Clan, she at times fell to bouts of megalomania as the only "leadership" role she knew as a means of blowing off steam. Something her parents were pleased to enable if her actions ended up with a positive result.  
But after 12 years of intense training, and nothing to show for it. She walked by her parents room, listening in on a heated decision of whether or not to send her away to somewhere else if she wasn't progressing under their care.
Misreading it as them talking about banishing her from the only home she ever known. She sacked their vault for enough money to get buy and left. Rather having ran away from the Clan than being kicked out.
And knowing there was a Clanmate that had made waves with her actions. Headed out to track her down. A teacher and a mentor that could awaken her potential in ways she couldn't on her own.
Positive Character.Traits:
Kind:
Higure is kind, well-meaning, but a little
too
eager to take the weight of the world on her shoulders. Which manifests as anger. Since she's doing what she thinks is best.
Passionate:
Higure pours herself into absolutely everything she does. Wearing her heart on her sleeve, and doesn't believe in going halfway. It's either all or nothing.
Driven:
Highly ambitious, and focused. There's very few things Higure won't do, and even fewer laws she won't break to succeed in any goal she has.
Loyal:
If she sees you as a friend, or as family. There's very little she won't do for them, unless she feels betrayed.
Empathic:
Higure may wish you ill or just not care the slightest bit about your welfare, but she intuitively gets where you're coming from and how you see the world.
Negative Traits:
Hair Trigger Temper:
Higure has less of a Berserk Button, as much as a Berserk Switch Board. Her irritability rarely escalates to violence, but shows as general irritability, grumpiness, or sarcasm.  And escalates the further her control of a situation goes away from her.
And isn't above arson, blowing things up, kidnapping, or physical violence if she thinks it's an appropriate degree of retaliation or stress relief that she can get away with.
Competition Freak:
She's in it to win it. She hates not winning and feels like she's no one's silver medalist.
Pride:
And how. The ignorant might think of her as arrogant, cocky, and conceited. But everything it's not undo, or exaggerated. Every brag or boast is backed by raw talent.
And if she finds someone better than her it spurs her to get better herself so she can be number one.
There's nothing worse to Higure than to be number 2 in anything. And she isn't too prideful to learn from someone better if it means she could surpass them.
Sensitive
: If she likes a person, she'll go to the ends of the world for them. If she cares about someone, there is very little she won't do.
But, if she perceives (even if it was a misunderstanding), that her loyalty had been betrayed. She can hold a grudge for the rest of her days.
Blunt
: Higurei has all the subtlety of a sledgehammer with rocket assist boosters. You rarely need to guess.what she's thinking because one way or the other you're about to know.
His Eulogy, by Justice 3342, with a link to how I got the news.:
https://www.fimfiction.net/blog/856473/im-going-to-forego-the-eye-rolling-irony-of-linking-candle-in-the-wind-for-the-guy-a-farewell-to-a-friend-and-comrade
~My tribute to an awesome friend, amazing and inspiring author, and an all around cool guy. Here's to you~