Name:
Michiko Uchiha
Age:
12
Gender:
Female
Village:
Konohagakure no Sato [Village Hidden in the Leaves]
Rank:
Genin [D]
Title:
None
Clan:
Uchiha
Bloodline:
Sharingan [Tomoe 1]
Element(s):
Katon [Fire]
Skill(s):
Ninjutsu/Bukijutsu
Stats


Strength: D

Constitution: D

Stamina: D

Speed: D

Coordination:D

Intelligence: D

Perception: D

Unique Abilities:
Spoiler:



One-handed Seals:Pretty straightforward. A player may weave hand seals with only one hand. This results in a one tier loss of Coordination for that hand regarding hand seals.

Mo-Money: A player may start off with additional income, which the max amount correlates to the player's starting rank. Upon doing so 50% of all future income counts towards that sum with an interest of 50% as well.

(starting with 100,000 ryo instead of my village's normal 30,000 starting ryo for Genin.)
Appearance:
A young girl with a pretty face that often hides behind long thick, unkempt black hair (it's not that she doesn't brush her hair, but because of being so active, and her strong gene pool coming from a history of this type of hair). She stands about five feet tall, barely coming into puberty, she hasn't gotten many curves yet and has a lot of growing to do. Michiko, unlike many in her clan who have pitch dark eyes, she has strange silvery hued eyes that shine a lot like mirrors. Her skin has a light tan to it, not too pale, not too dark. She gets her fair share of sunlight any time she can. Her physique is lithe but strong, most of her muscle being in her legs, as she quite enjoys running and traveling around Konoha and the nearby forested and mountain areas when it's "safe" to do so, even though her Uncle hates her going off on her own.
Her fashion is pretty much contemporary for her clan, though she tends to be more of a tomboy and wear shorts or pants vs girly skirts and dresses. She cares more about comfort and performance when it comes to her gear rather than style. That sort of thing is silly to her. However, when her Uncle insists, she'll wear a kimono for whatever function she must wear it for. Also, she loves jackets. She has a little collection of them ranging from t-shirt style jackets, to zip hoodies, to long cloaks. She loves them because they keep her warm, they're comfy, and she can hide things in them, including her appearance (like from Uncle when she wants to sneak through the village trying to blend in unnoticed). For her footwear, she typically enjoys wearing the usual standard issue ninja boots in black, but there's gotta be long socks! Always the long socks! Whatever shoes she wears…they're black, unless it's kimono day, then she wears wooden geta sandals. As custom of her clan, the emblem of the Uchiha is on most of her jackets. She wears her village headband around her forehead like the usual uniform of any official ninja.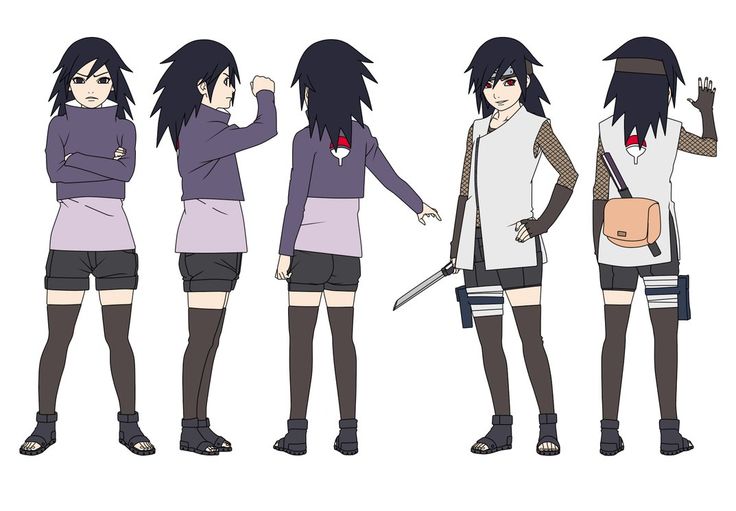 History:
It all started in Konohagakure's Uchiha Clan District, when a young man named Tadashi married a beautiful girl from outside of the clan named Kaede. This was a normal practice to keep the bloodline strong. Tadashi's family within the clan were highly prestigious purists, never mixing blood with other Kekkei Genkei Clans, in order to preserve their prowess throughout the generations. They were also leaders within the clan. If they weren't direct leaders, than they were just below those leaders, as members of the high council, not only within the clan, but some also official council members of Konohagakure itself, dealing directly with it's inner government workings, and thus, the family upheld the strict rules and laws of Clan and Village, and also held
many
dark secrets.
Tadashi was Jounin Rank and an Elite ANBU at the time that Michiko was born. Kaede had had three other children before Michiko, all boys, and all had mysteriously died before they reached the age in which they could attend the Academy. There had been no logical medical reason as to why their sons died. All of them had been healthy. The only explanation that the Elders of the clan had for the family, was that their marriage was cursed, thus because they had not received the true blessing of the Sage of Six Paths, they would continue to suffer the loss of children. The Elders wouldn't look farther into the deaths of the children because of this prophecy, but they emphasized sympathy for the family and told them their suffering would only make their bond stronger, for the good of the Clan. It was a curse, truly, but an unfortunate truth that Tadashi had no choice but to accept and grow stronger he did as his pain persisted. Michiko's birth was a final challenge against the God of the Uchiha's curse that seemed to successfully break it and turn the curse into a blessing. It had taken eleven years of miscarriages and the deaths of three boys to produce a girl. It was then revealed by Tadashi's own older brother, Ryudan, who had become a member of the Council and appointed record and shrine keeper, that the family's curse had been lifted and had blossomed into true blessing. Only an Uchiha's blessings always came with a price. When Michiko was only a toddler of two years old, her mother Kaede died in her sleep. Her usefulness was no more to the Clan, it seemed.
Tadashi was bitter and angry, and grieving greatly. He studied the body of his wife along with the forensic team in the ANBU, and it took uncovering a clever hidden seal on her neck to find the reason she'd died. It was murder by the hands of a masterful user of Sealing. But why?! Who would go out of their way to murder an innocent woman who gave up Shinobi life in her teens to become a loving house wife? Kaede had only wished to be happy in her life and finally raise a child to become a good shinobi. She endured so much suffering of her own and her husband's misery, only to cause Tadashi even more grief in the end. Kaede would never see her little girl grow up, and little Michiko would never know her Mother. For all of this, Tadashi swore he'd find his wife's killer and make them suffer the most horrible death possible. That was when he unlocked the fabled Mangekyou Sharingan and became one of the Uchiha Clan's most fearsome and powerful warriors, in which very few attained the status of. This was also part of the Elders' prophecy. Everything that happened was for the betterment of the Clan. Tadashi was destined (or rather forced unknowingly) to become this warrior, and so, the Elders offered him a place in their inner circle of the Uchiha High Council. Only, because Tadashi was so obsessed with the murder of his wife and all the grief he'd endured, not to mention a very demanding job, he declined to join them, and said he was unworthy of such a position. He blamed himself for his family's tragedy. With heaviness, the Council of Elders accepted Tadashi's decision to decline, saying to him, "So be it. You do not have to join."
Michiko grew up being doted on and highly protected and forced into early education. She loved her Father and her Uncle very much, she had friends inside and outside of the Clan, and she seemed to be smart, as she learned her lessons easily and found learning fun and exciting. Since Dad was an ANBU, he often was gone away from home for days or even weeks at a time, but whenever he could stay home for a while, Michiko lit up like the happiest little girl in the world. It was during those times that they'd play together, and her Dad would bring her gifts from his travels or teach her a little easy to learn kunai technique or two. When it was time for Dad to go back to work, or when she'd wake up at night and not be able to find him, she got sad. Luckily, Uncle Ryudan was always there to comfort her. He meditated a lot and had to go to meetings and such for the Konoha Council AND the Clan Council, but he seemed to have more time for her than her Father did. It was from Ryudan that Michiko learned how to cook and make tea, and she took these up as hobbies. Ryudan was also the one who'd teach Michiko about the history of their Country, their Village, and their Clan, and he always told Michiko how precious she was.
As the little girl grew, she showed more and more promise to become a Kunoichi. Truly she was blessed, her Uncle thought, just like the Council had said. The mark of her blessing were her silvery eyes, like the reflection of the moon. Still, as it drew close for her time to be enrolled into the Academy, her Father expressed concern, as all three of his sons had died before they could attend. To assure him everything would be alright, Ryudan pointed out to him his daughter's beauty, and her likeness to the Great Mother of Legend, in her sparkling eyes, her vigour, and her kindness. Then, he would remind his Younger Brother that the Elder Council had prophesized years ago, that the curse had been lifted and Michiko's life would not be taken away. That set off something in Tadashi. He knew it was true. He felt it in his bones, in his very being, that his daughter would be ok. However….
"What about my wife, Dan?! Why did the spirits take her?! I don't buy it Dan…..SOMEONE killed her, and when I find them, they're going to hell!", he declared. His eyes were ablaze with his unique red and black marked eyes from the Mangekyou Sharingan, burning a glaring promise into his Brother's soul. Ryudan was amazed and petrified by his brother, staring fearfully and unblinkingly into the other Uchiha's eyes, unable to turn away. When Tadashi let go of his strong grip on his brother's shoulder and closed his eyes, turning away from him, he said, "I'm sorry. I didn't mean to…"
Ryudan blinked and came back into his own bearings and replied, "I know. I believe you, but the Council doesn't care. She was your wife, and you loved her. Ok…you still love her, but she's gone, Tadashi. You need to get over beating yourself up for something you can't change and step up and be the man you were meant to be. Your daughter believes in you. She carries all the love in the entire world. Show it to her. Be a good Father. Give up ANBU. Reconsider joining the Inner Circle Council. You're one of our best Shinobi, and you choose to be a dog and a whimpering one at that."
"Oh, so now I'm a DOG?! What about you? You lay in the lap of the council! We're both dogs…..we're all DOGS!", replied Tadashi, turning and shoving his brother furiously, his eyes lighting up again in angry swirls of hateful emotion. Ryudan cried out in pain and in disbelief as his left shoulder crashed into the wall with a crunch. He gripped his wounded shoulder, usually controlled anger welling inside him, he activated his own more distorted Mangekyou Sharingan, and he winced, focusing his eyes on his Younger Sibling's.
"You are out of control. You NEED to relax.  I chose my life….and YOU chose yours. Loyal is what a dog is, right? Are you loyal to your people though? Remember…I see everything, I hear everything….I know….",Ryudan reminded his little brother, a horrible sense of foreboding filling the room. This was starting to turn into an all-out fight between two elite Uchiha, a fight of ocular power and mental superiority. Until…
"STOP!!", Michiko screamed. She was breathing hard from the overpowering intensity of chakra in the air. She had her arms wrapped around herself, her heart pounding in her little ribcage. She'd never seen her Father and her Uncle fight before, and their strange eyes scared her. She cried, pleading for them to stop.
Ryudan glared angrily at Tadashi, and Tadashi glared back, but in the back of both of their minds, they heard Michiko's plea to stop, and Ryudan painfully let go of his technique, a tear of blood streaming down one cheek. Tadashi himself felt a migraine coming on as he let go as well, and he stammered, and he looked at his daughter, and he said, "Michiko, I'm sorry. Come here."
Michiko was horrified, not knowing what to think about what she just witnessed. She yelled, "No!", and she ran to her room upstairs. You could hear the door slam. Tadashi sighed then, and went to tend to his brother, not realizing how bad he had wounded him. Ryudan shook with pain and felt clammy in the younger Uchiha's embrace, and looking at his eyes, Tadashi saw that the tomoe in Ryudan's Sharingan were severely faded. He felt immediately guilty and sickened with himself.
"I….I c…can't see, Brother.", Ryudan whimpered.
"Who's whimpering now? Heh….you need rest, old man. You just need some rest.", Tadashi said harshly, but with a sense of compassion. He felt horrible for what he'd just done. Was Ryudan right though? Was he out of control? Truly the Clan and his Daughter were more important than the ANBU….but the ANBU just didn't let their members quit.
Michiko couldn't believe her Dad and her Uncle. She loved them so much. How could they fight like that, and why did their eyes look so weird and why did she feel terrified when she saw them? She shook and clenched her stuffed rabbit, feeling cold and bundled up in her blankets. When Dad came to her door, knocking, Michiko yelled at him to go away and that she hated him. She'd never said that before in her life, but somehow it felt appropriate to say, because how could he hurt Uncle Dan like that? And why?
"Leave me alone, Daddy! You scare me!! You hurt Uncle Dan!"
Her Father knew she wouldn't listen, so he opened the door with a door unlocking Fuuinjutsu, and he came in calmly and sat on the edge of her bed, and he said, "I know. I know…. But….you're right Michiko, it was bad. I was a bad Dad tonight. Can you forgive me?"
Michiko sobbed, looking at her Daddy. She'd never seen him like this. So apologetic? She'd always seen him before as strong, brave, the best Daddy ever….but now that she was growing and learning about how their world worked, she started to realize….maybe Daddy wasn't invincible. He needed her, that's how she felt. Daddy just missed Mommy. Michiko got up and went over and hopped up in her Daddy's lap, and she lovingly touched his face, looking at his eyes, her fears fading as she saw they were turned back to their normal midnight black. "Don't scare me like that again, Daddy. I forgive you."
Tadashi smiled and sighed, hating to show this weakness to his daughter, when all he wanted to do was to be her protector and teacher in a world so full of killing and hatred. He knew now what he'd have to do. He'd have to convince the ANBU leader to allow him to retire and focus on his family. His Daughter needed him. Besides, there were plenty of younger ANBU and new recruits just waiting to be plucked and branded into servitude.
Time went by. Michiko was doing well in the Academy and doing her best to focus on her lessons. Her teacher told her Father that she was a quick learner, but that she often didn't pay enough attention in lectures, caught up in thought and complaining she was just tired. Apparently, some other kids also bullied her, and she in turn bullied them and started pulling pranks which sometimes backfired, like when her Sensei was bathed in paint from a bucket trap rather than her target. Thus, Michiko was getting into trouble more often. Her teacher went on to say that he was very concerned about her behavior, because the first few years of school, she had been such a good student.
Tadashi blamed himself for his daughter's behavior. He knew she started acting like this because she had a need for more attention at home. He hadn't been allowed to disband from the ANBU, the ANBU needing his skills for their espionage missions, record keeping, and various assassinations. Also, the Uchiha Clan Council was pressing him for inside intelligence on what the ANBU were up to, which was altogether troublesome. Tadashi felt used by both parties. He also knew through extensive research that his clan's council had been the ones to order the death of his wife, and that his own brother was hiding the truth about it. However, he'd accidently put Ryudan into a coma that night that they'd fought, and the fifty year old council member lay in bed in his chamber still, on life support. Every night he walked by that room, he contemplated going in there and ripping off the devices and sending his brother into his grave for what he knew he'd at least been a part of, but he couldn't bare to do it. He felt guilt. He loved and hated his brother at the same time, and also he knew his daughter would hate him too if he killed him.
All the weary Tadashi could tell Michiko's Sensei was that he was doing all that he could under his circumstances to discipline her properly. In harsh reply, the Academy Sensei told Uchiha Tadashi that if he couldn't straighten her up, she'd be a wasted potential and wouldn't be able to graduate with the rest of her class. From then on, Michiko was placed on strict lockdown, and he struck her as often as need be, something no parent enjoyed doing. Her Father was very angry with her, stopped taking her requests to play, and whenever he was home (which fortunately was more often now due to him having to explain his daughter's academic malfunction to his boss), he watched her like a hawk and made sure she did her homework and got her rest so that she could become a Genin with the rest of her classmates. As for Michiko, she was torn, and began to resent her Father. She stopped misbehaving in his presence, but she would begin to make clever ruses and sneak out for a little bit at night to go to the corner store and buy candy, or just sit in a tree outside and listen to the wind and watch the clouds, stars, and moon. She was sad and angry, and felt lonely.
One day, a miraculous thing happened. A beeping sound came from Uncle Dan's room, and Michiko heard him groaning, and then cry out the names of Tadashi and Michiko, before she heard a thud. He'd fallen on the floor. Excited, the girl jumped out of her own bed, ran out of her room, and down the hallway to her Uncle's room. Dad was already there somehow, staring with his Sharingan at Dan. When he realized Michiko was there though, he reverted is eyes back to their dormant state and began to help his older brother up off of the floor, expressing concern and relief for him and asking how he felt.
Michiko thought it was really odd how Dad was just acting for a second, but her anxiety over that quickly faded when Ryudan happily turned her way and spread his arms out for her. She ran into her Uncle's embrace with a happiness she hadn't felt in a long time. Something was rekindled in her, the filling of an emptiness. Meanwhile, her Father frowned at the two of them, silently plotting and brooding. Ryudan sensed his younger sibling's tension and shot him a glare as he continued to hug his niece. Though he was weak and his vision was reduced to near blindness, he could feel all the tension and dismay from his niece with his sensory techniques. "Oh sweet child….", Ryudan said tenderly, running his fingers through Michiko's hair. He would then soon straighten up and hobble towards the door, slowly regaining his footing and a somewhat normal gait.
"Where are you going, Brother? You should stay home.", said Tadashi to Ryudan. The older Uchiha disregarded the younger and replied, "to the place where I am needed. You cannot stop me. Don't try.", and with that, Ryudan body flickered out of the house. Tadashi grumbled, not bothering to follow him. Michiko didn't understand why Daddy wasn't happy Uncle was awake. She didn't understand Uncle's tension either. She did however, feel relieved her Uncle would be back in her life, and now she felt she could really go back to being good in school. A few months later, Michiko aced the final exams and became an official Genin. She and her family were happy with her accomplishment, but there were loose ends that still needed to be fixed to ensure she had a healthy future and that order and honor would be restored to the Uchiha.
Personality:
  In a nutshell, she's like a thai chilli pepper, very spicy but surprisingly sweet. She's a passionate and headstrong young woman who's not afraid to speak her mind or fight for what she believes in. She's passionate and full of courage, though she's also hot-headed and impulsive most of the time. Her drive to learn and to become stronger is one of her best virtues, as she always strives to do her best. Demeanor-wise, she's seen as fearsome and cold at first because of her seriousness and the fact that's the reputation her clan has. However she is actually quite an outgoing person with a kind heart, though with rough edges and sometimes very rude (she has a hard time accepting most others and so she's rude to them. She also hates authority for the most part as she's going through the rebellious phase of growing up). She is highly competitive and always vies to come out on top of a situation if she can help it, and she hates losing, though she won't admit that she actually learns well from being defeated by others, as it gives her insight on better strategies for the future (she's also rather hard on herself when she loses and uses this to her advantage by training hard to right her mistakes). This is also gained though, through the observation during combat, which she is also pretty good at.
When speaking to others, she tries her best to behave as well as possible, but if the person she's speaking to is rude to her or she feels intimidated by them, she's like a spitfire and as rude as can be and she'll speak exactly as she feels. She also doesn't stand for people talking down to others like they're better or something, even though she's been guilty of insulting people herself or making rude remarks. She will use honorifics if she respects that person or that person is her family member or superior, otherwise she'll just refer to the person by their first name. Just using the first name is also how she prefers to use the names of her close comrades.
Michiko isn't very known for her patience either, but this doesn't mean she just rushes into all kinds of danger. Being taught to be a Shinobi, she had to learn virtues of certain discretions and such and etiquette of fighting like a Shinobi, you know, like the element of surprise and stuff. Therefore, while she seems like the kind of hot-head that may make some dumb mistakes during combat, she's actually pretty quick witted and canny while fighting. She can also be pretty ruthless at times during combat with others, whether it's her competitive streak, her need to prove her worth as an Uchiha and a Kunoichi, or because the person she's fighting is in need of an ass-whooping for some reason.
She claims she is fearless and isn't afraid of anything, but there is in fact at least one thing she fears. This little girl would jump off a tall cliff without hesitation, knowing she'd survive if she used the right Ninjutsu and footing, but what she's afraid of the most, is losing the rest of her dear loved ones. The thought of losing her Family Members, for example, has haunted her in her dreams, waking her in cold sweats in the middle of the night.
Making friends for her is something that must be earned. Since recent events, she's become more withdrawn from others, though she enjoys the company of people whom she trusts, mostly her Uncle. Once she chooses a friend though, that friendship would grow into the best sort of friendship. Michiko can make a good friend, even if she does seem rowdy and aggressive. She is actually pretty friendly and outgoing and enjoys smiling more than she does being angry or depressed. She enjoys hanging out with her friends and having fun, especially if the fun has to do with training or fighting, or going on some kind of adventure. Believe it or not though, sometimes the girl does prefer just to hang out and relax and talk about stuff. Overall, she's someone you can trust and who will watch your back and take care of you. She would never have any reason to lie to a friend unless it was to cover up something that could hurt them, and that being said, she'd never have a reason to actually harm a friend either, and she'd do everything in her power to protect her friend from danger. Also no matter what, making Michiko do something she doesn't want to do will likely never happen. That's all from being extremely stubborn.
Roleplay Sample:
(I think that's covered ^-^
EXP:
1650 to start
1050 towards my stats
500 towards Sharingan Tomoe 1, and 100 towards Tomoe 2 (100/500)