Name:
Chomaru Hayami
Age:
16
Gender:
Male
Village:
Sunagakure
Rank:
Genin
Title:
N/A
Clan:
Hayami
Bloodline:
Swift Release
Element(s):
Futon, Jinton
Skill(s):
Ninjutsu, Bukijutsu, Tender  
Stats


Strength: C-Rank

Constitution: D-Rank

Stamina: D-Rank

Speed: D-Rank

Coordination: D-Rank

Intelligence: C-Rank

Perception: D-Rank

Unique Abilities:
Field Specialist: A player may be exceptionally better at dealing with NPCs given a specific environment or circumstance. This would mean their rank of effectiveness is increased by one. Doing this will require them to perform worse in a certain environment or circumstance.
(Advantage on dry flat terrain. Disadvantage on icy or slippery terrain.)
Training Reductions: A player may decrease the amount of words required to learn a certain field of technique by 50% in exchange for increasing the word count required for another field of technique by 100%. The player MUST possess the skill/element that the drawback is affecting.
(Reduction to Bukijutsu, Increase to Ninjutsu)
Appearance: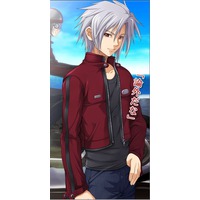 . Touya Chigasaki
History:
Chomaru is the first born of his family that lives on the border of their clan's estate. His father is an ex-scout and bodyguard for hire, his mother is a message runner for one of the many Hayami delivery services. He has a younger sister, a couple years younger then him that has chosen to follow in the mother's footsteps. In his academy days, Chomaru enjoyed playing games and physical challenges over puzzles and tests. He graduated the academy after brute forcing his way through most of the exams to make up for his low scores elsewhere.
Personality:
Chomaru likes to think himself as a knowledgeable person, he enjoys studying maps his clan has collected and drafted over the years in hopes of exploring long lost places or new exciting discoveries. He values any small victory as a win and almost any event, a competition to rack up the wins. He is often described as youthful as he trains and tries to keep himself in the best shape possible like his role model father. People who compete against his will often remark his physicality as he tries to edge out competitors. Some close family members would call him misguided with how he looks up to his father and idolizes his profession. These ideals and dreams often make him whimsical about situations he might end up in and how he could
escape with no issue.
Roleplay Sample: