Name:
Mikael Uchiha
Age:
23
Gender:
Male
Village:
Konohagakure
Rank:
Genin (D-Class)
Title:
N/A
Clan:
Uchiha
Bloodline:
Sharingan
Element(s):
Fire
Skill(s):
Sword Techniques | Kenjutsu 剣術
Medical Techniques | Iryōjutsu 医療
Stats


Strength: E

Constitution: E

Stamina: C(450)

Speed: D(150)

Coordination: D(150)

Intelligence: C(450)

Perception: C(450)

Unique Abilities:Chemistry Expertise:
A player may create chemistry creations one rank higher than what their current experience or skill set allows. This can result in an increased countdown (for poisons and drugs) or cooldown (for medicines and provisions.) The increase is the next rank's timer increased by .5 (rounding up.)
For example, let's say a C-rank medicine has a cooldown for 10 posts. A B-rank medicine has a cooldown for 15 posts. By choosing to craft a C-rank medicine at the B-rank level you will take the 15 post cooldown, and add half of that value on top of it. Half of 15 is 7.5. Rounding up would make that cooldown now 23 posts.
One-handed Seals
: Pretty straightforward. A player may weave hand seals with only one hand. This results in a one tier loss of Coordination for that hand regarding hand seals.
Appearance: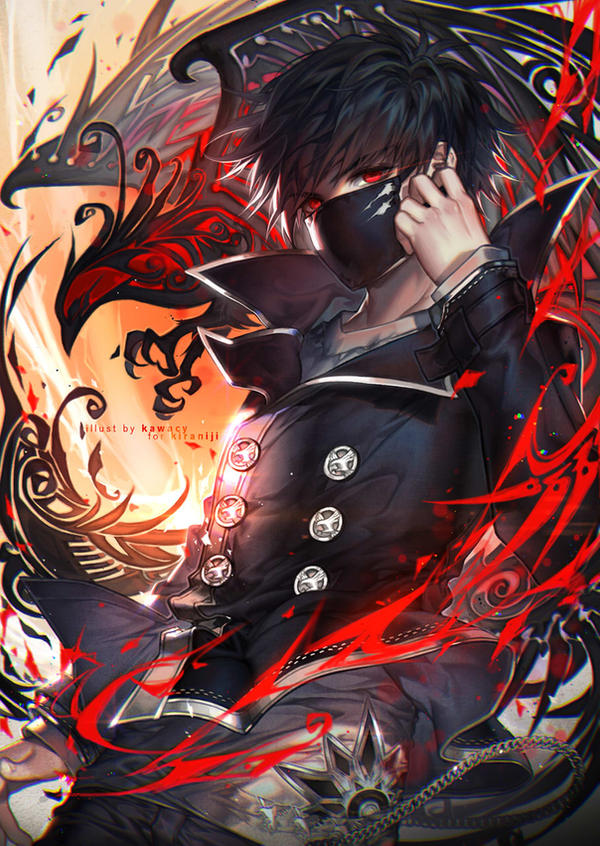 Mikael's body, according to human physiology is that of a Slim Tall man. He has 187 cm(6'1''). He has 73 Kg(160 lbs) in height Although the boy is skinny, he has strong resistant and heavy bones. His musculature is well defined but slim in shape.
Mikael's skin color and complexity are light, giving him young look , devoid of aging or otherwise spots. His hair is short towards medium in length and straight with bangs. The color of his hair is black. The eyes are red as rubies. Their shape is oval and slightly tilted inwards. The brows are naturally slim and well defined, which gives the impression that he takes care of them. He doesn't. As for the nose it is a long and slim. He has pink and small lips.And a small almost pointy chin. His jaw is wide and well defined, having a certain sharpness to it. His ears are small and close to the head in their orientation.
The neck is slim and long. As for the body, it is the body of a skinny ectomorph. Slight traces of ribs can be seen. His Pecs are a bit developed, so they have a defining line, but they are not big in side. He has a straight stomach and his abs are basically split by a vertical line and the top 2 ab squares are in the shape of a triangle. However, no horizontal separation line exists between the abs. His hip bones are prominent and look like they are slightly going out of the body.
The Hands are slim but have a slight definition on the muscles when they are flexing. Aside from being slim they are long and Mikha'El has big hands with long fingers. The legs, however, are better developed. They are thicker, and quite muscular if they are flexed. The calf also has a nice oval shape. The foot is long and narrow, which is expected for someone of his stature.
His Body hair is in the average parameters, with slightly more hair on the legs. Although he has no hair growing on his chest or back. The beard is growing hard and quite rare, so if he doesn't shave, it will not grow into a full beard.
History:
The Story begins 2 generations in the past. In the year 863 A.S. Mikael's Grandfather, Nox Uchiha is born. The man was born with an extraordinary intellect and a great talent for genjutsu, being able to do genjutsu since he was 7, without the help of sharingan. At the age of 12 when he got the Sharingan, Nox's genjutsu got a great boost in the genjutsu skills and quality. He was also one of the very first to create and be part of a special Uchiha Force, specialized in sabotage, spy and tactical missions.
During his time, he became a valuaed member of the Uchiha Clan. At the age of 25, Mikael's father was born. At the same time, Nox had what could be said, a spiritual revelation which changed him. At the age of 30, he started to become a Trainer for younger generations of uchiha, and to make sure that Other Uchiha are properly educated and trained. Of course, that would mean his own son too, Arus Uchiha.  Arus was a very talented child when it came to the use of weapons, taijutsu and ninjutsu. He was more focused on combat than his father. And under the guidance of his father, he honed his skills into a considerable asset for the Uchiha clan. And asset that was very welcomed in 908 A.S. in the war against the Hyuga.
During the War against Hyuga, Arus fought on the front lines while Nox worked as a tactician and trainer of the Uchiha troops. Arus achieved great many things during the war against the Hyuga and he became quite famous in the Land of Fire as The Fire Warlord. A title which was given due to his incredible Fire Ninjutsu which not only provided great support for his fellow uchiha, but also a power to be reckoned with . Nox became somewhat known too, for his incredible intelligence and plans which gave him the title of The Phantom Seer, due to his elusive and ghost-Ops tactics.
12 Years later, Mikael Uchiha is born from Arus and Helena Uchiha. His mother being a Medic Nin. At the age of 5, Konohagakure is created, Nox becomes an Academy Instructor, and Arus becomes one of the very first Anbu. Mikael's childhood was a relatively safe and happy one. At the age of 7 he was admitted into the academy, which he absolved at the age of 11. His Grandfather was his Instructor, and while he was a good professor, he iincredibly more strict with his Grandson than the other students. A strictness which, in the long run, helped Mikael enormously. After his grandson graduated the academy, Nox Uchiha has retired.
However, afterwards, Helena took his boy to a normal school too, not allowing his son to go and be tested by a Jonin, in order to learn all the subjects of the normal people. She had a very strong views about her child being educated, not only trained in being a ninja.
At the age of 15, Mikael graduated from that school too. And for the next two years, he would frequently visit his grandfather on a daily basis, being taught about spirituality, religion and Philosophy. at the same time, his father would teach him about ninjutsu more and train him. 2 years later, the boy was quite versed in these subjects, and decided to travel the world for a while and also learn from other Institutions all around the world. Not being a ninja would have a very good thing regarding this.
Thus, at the age of 17, the boy leaves Konoha to travel and find himself and his own way. In the same year, his father, which was an Anbu Captain, retires. Thanks to the spiritual knowledge, Mikael traveled through all the countries. In Kirigakure he staying for 2 years, he learned Kenjutsu. During his travels he also went to The Land of Keys where Mikael studied psychology and how to read other people from the body language. It seemed as High Knowledge of Psychology was the norm in a land where the shinobi are known for specializing in Espionage.
Another place where he went was Land of Medicine, where he found himself having a strange spiritual connection to the Rōen from the legends. However, besides learning about the legends and culture there, Mikael also learned about medicine and how to make it. At the same time, he also learned about the poisons counterparts for these medicines and with enough study he learned how to handle and create them. For 2 years he studied there Medical Ninjutsu and developed himself as a Medic Nin with the help of the Ninja from the Hidden Village which were ocasionally passing by through the land. His help as a medic assistant and in creating medicine and the such was a great help to the villages he went through in the Land.  
In The Land of Earth he learned discipline and how to have a will as strong as the earth, which nicely complemented his Emotional Intelligence and the ability to control his own emotions with the help of Iwanagakure Ninjas that were passing by. Another Land that helped him in his spiritual development was The Land of Hot Water. There he finished his spiritual development and refined his personality to what he is today. He learned about a "Karma" system and had a revelation about how the world works and why everything happens for a reason. This was the final piece that the boy needed, and finally he found himself and his calling. This is when Mikael decided to become a God.
After 6 years of wandering, Mikael finally decided to come home. After his quest, he finally found his calling and now, in order to make his dream reality, he returns to Konoha. Going back home with the plan to become a genin, train himself, become strong, raise in rank and gain all the knowledge and resources needed in order to prepare for his ascension to godhood. The boy's path to heaven starts now...
Personality:
If it were to describe the Mikael in one sentence it would be: "An old man in the body of a Youngster." The Boy is an extremely mature person for someone his age. He has almost complete control over his emotions and desires, with the exception of his lust. However, this does not mean he has control over what he feels, only that he has control over how he manifests his feelings.
The Uchiha has been observed to have trouble managing his sexual desires. Because of these desires, is has been observed a deviation in Mikael's behavior whenever attractive females were present. Such deviation from his normal behavior parameters are: Preferential treatment of females, Distractions from his current activities, deviation from the plan, susceptibility to female charms and influence.
One of Mikael's biggest desires, is the desire for self-improvement. And that also births the desire for knowledge and understanding. The boy's ultimate goal is to become a God. Thus psychologically was observed that the the Uchiha has developed an unique type of God Complex. While it gives the person a self-importance perception and feelings of Grandeur, Mikael has been observed to not develop a superiority complex and treat other sentient beings as his equal.
For this, he likes to learn new things and evolve into a better version of himself. Due to this desire, Mikael started to study different topics which he thought it would be beneficial for his growth. And due to this, he also became a very curious person, which tries to find things, that sometimes are not legal or proper for him to find out.
One growth related topic would be Psychology. It was one of his biggest desires, to learn how the mind functions. Why do people go through certain experiences, why do they feel certain emotions and why do they act in certain ways. What are the differences and similarities. Thus, he became a person which actively tries to analyze persons around him and try to understand them at the deepest level. Along the years, some people have found this trait of him quite intruding. When he is trying to read people, some might feel that he is forcing his way in their life or soul, however, in such cases there is just a curiosity of his that needs to be sated.
Another topic which the subject is deeply involved in, is spirituality. He is a very spiritual man, believing that there is much more to their existence than this life. He believes there is a God up there, however, his belief is seen as unique due to the combination of religions from which it is formed. Although he believes in reincarnation, he also believes that every person can have complete control over their lives. He believe that sentient beings were made to be like God, thus, no sentient being is inferior to God. Everyone can become a God eventually, if they continuously try to improve themselves. As for his view on other Religions, The Subject believes that all religions speak the truth, it is just that they are different perspectives of the same principles and encompass different cultures. He also likes to research and practice the Mystic side Religion in hope of furthering his goals.
A third topic that subject is highly interested in is History. He finds it fascinating. There are a lot of lessons to be learned from the past, and learning about the true, unaltered history, is one of his biggest passions. Thus, the subject is seen as showing great interest into Archaeology.
But, even though Mikael is a mature person, he retained the heart of a child. He retained the desire to play and relax. Quite frequently the boy has child-like moments. One such example is that he becomes very excited when one of his passions is involved, either by doing or by discussing it. He is a very straightforward and honest person(with both others and himself), just like a child. This is one of his qualities, or defects. Mikael was observed during his social interaction and we can conclude that during conversation he has a tendency to take everything literally. The Uchiha boy also never lies. Though he has been observed sometimes to hide or omit the truth. However he never says something that he knows it is false. The subject fits the pattern of a person who doesn't like drama or to complicate things. He likes to keep everything simple as much as possible when it comes to life, unless complicated is what is needed.(An example being complex tactics, patterns or plans)
Mikael was observed showing a lot of interest in food, as he always tries new recipes and gains real satisfaction from eating delicious food. Another of the boy's passions are games, like board games, shoji and so on. The uchiha boy is a person who tries to make most of his life and enjoy it as much as possible.
Another well defined trait of his is that he is an extremely open person. It is very easy for him to open to others and trust them. And he is also in love with life. That would be explain in the fact that he loves all living beings in the world. Although he was observed to not love everyone equally. This makes the Mikael's wish to create a world in which everyone can be what they want and be happy. It is the feeling that drives the subject to help others.
There is however, a rule that the Mikael respects more than anything and lives by. That is the rule of free will. He believes that everyone has the right to be who they want and how they want. They have the right to decide what they want to do, and how to live their lives and no one else has any right to do that. Because of this, he will never try to control people and when he is doing something that includes others, will always ask for their permission. Mikael will never try to control other people and he will never accept to be controlled. But depending on his lust management issues, he might bend this rule a little and try to influence females in his favor.
The Uchiha boy tends to be the kind of person who balances his mind and heart. He has a strong intuition and always listens to it which sometimes can be perceived as being paranoid. However, where the intuition or heart drives him to decide what to do, he uses his brain and logic to think about how he would achieve it so that all undesired consequences are removed. He always tries to think ahead and into the distant future. The boy was seen to usually try to see things in perspective, to see the bigger picture and not focus so much on trivial details.
Like any other being, Mikael has a dark side. The brightest stars cast the darkest shadows, as quoted by the subject himself. His dark side manifest when the subject experiences intense anger. One way in which he gets to that point of anger is when other people pay or suffer because of his person and instead of him. It will be something that that the Uchiha boy will never accept. When he reaches that point, a change in behavior has been observed. Mikael becomes a silent ice cold person. Ruthless and with cold determination, he will make sure to teach those who wronged him a lesson. He will stop holding back and go all out on the people in question without trying to give them any chance to do react.
Roleplay Sample:
N/A
Last edited by Ranganok on Sun Jul 18, 2021 1:36 pm; edited 1 time in total