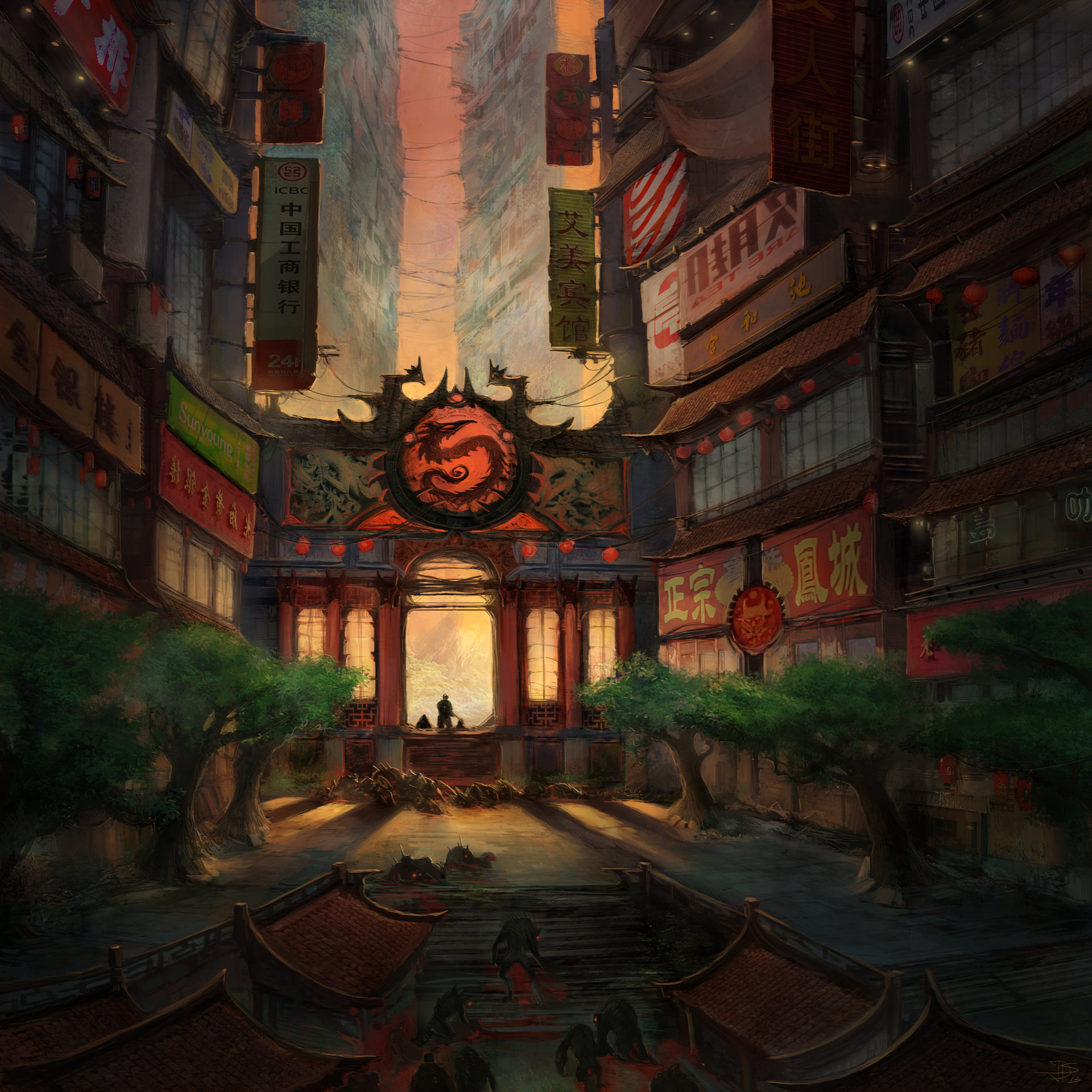 Yokai District
---
This was new. The Yokai's District had started construction works. Huh. Did that old man finally decide to do something now that his time as leader was nearing its end? How long had he enjoyed the luxuries of his position without watching over its pride? Years? Decades? Hua Li couldn't say. What she did know was that he finally, after having it suggested two years ago, had decided to build that damned wall. And what's the first thing the Daitengu noticed? Troubles. A giant fancy gate in the middle of the road now marked the entry to the district. Finally telling everyone they'd have to beware the oni. Telling them where the world of humans ended to make room for that of demons. A '
Kimon
', a demon gate. Superstitiously, it should have been build in the north-east. Ashtoreth, like most yokai, cared none for that silliness. But at least it had one thing right: it'd be where the demons entered and left the human's supposed home - Kumogakure.
She had not reached the gate itself when her eyes caught the corpses of a variety of dogs. Or, they looked like dogs. Robust, ugly dogs bearing the colours of shadow and despair. Eyes smouldering with inner fire. The tengu raised an eyebrow. What was going on here? She'd continue her casual pace, making sure not to step on the corpses as her gaze danced from one body to another, until she finally reached the gate. An oni would show up, looking down on her with a grimace. He'd not fail to notice the horns she bore, but even those beautiful horns didn't stop him from thinking it was his business to hold everyone out.
"What do you want?", he'd growl. "Can't you see there's trouble going on here?"
"The only trouble I'm seeing is an oni not knowing his place. What's the meaning of this mess here?"
"What's it to you? The oni got this."
"Really now?", she'd turn around to look at the dozen or so of corpses. "Is that what you're telling the humans too? Because I don't see this being covered."
"You better keep that sass to yourself, tengu."
"That's Daitengu to you, grunt. Now speak up before I hang you by your horns over this gate."
"Daitengu...? You're Hua Li?"
"Who else would I be? Do you know any other Daitengu perhaps?"
"No, but you're a tengu. You could be telling me nonsense."
"That's uncalled for. But I guess oni speak a different language, so let me show you..."
One kusarigama and five minutes later, the oni found himself on the edge of the gate, dangling at the grace of the yokai's strength. Kusarigama wrapped around his throat, his hands clung tightly to its chains as he looked down from this uncomfortable height.
"Does this make clear who I am, gate guard?"
"Y-yes. It certainly does. I simply wasn't informed, Daitengu."
"So you're telling me Ashtoreth's been failing to keep things organised now?"
"N-no, I me-"
"That's alright, I won't tell. You do your job, I'll do mine. And once we're back on the ground, I expect you to tell me what happened here."
Hua Li would take back her weapon, somehow forgetting she was supposed to hold the oni. A brief second later, an uncomfortable smack was heard as he hit the ground and groaned in displeasure. He'd be alright; the oni capable of bearing a good beating. Just a little sore all over the place the next day. Nothing the oni couldn't bend to his benefit; telling he had a scuffle with the Daitengu and lived through it was only good for his reputation amongst his kin. The details were not so important if no one asked about them anyway.
"Now, speak up. I don't have all day."
"Right. So, a small group of ours have been experimenting on animals. Looking into solid guard dogs. And uh... Yeah. They're doing a good job alright. I mean, the beasts are ferocious and all."
"Then why are you guarding the gates?"
"Because they're hardly tamed and out of control."
"Great...", she'd sigh in exasperation. "Not exactly the home-coming I imagined but I suppose it's better than boredom. Has anyone been contacted to clean up this mess?"
"I don't know. I was supposed to keep watch with a baku today. Never showed up. Probably soiled himself and went into hiding.", the oni said with a shrug.
"Of course. Just keep watching this gate while I go figure the rest out."
---
5 XP