Name:
Toshiyuki "Toshi" Ryuutei
Age:
17
Gender:
Male
Village:
Kirigakure
Rank:
Genin [D-Rank]
Title:Clan:
Clanless
Bloodline:
N/A
Element(s):
N/A
Skill(s):
Kuchiyose
Stats
[3150]


Strength: D [150]

Constitution: D [150]

Stamina: C [450]

Speed: D [150]

Coordination: C [450]

Intelligence: A [1650]

Perception: D [150]

Unique Abilities:



Hidden Voracity:

Hidden Voracity - Speed: At the sight of his own blood or the blood of someone he cares about, Toshi's Intelligence is reduced by 1 advantage and his speed is raised by 1 advantage. When activated Toshi's irises shift, with his right iris turning gold and his left turning turquoise. [Costs 5 CP]

Hidden Voracity - Stamina: At the sight of his own blood or the blood of someone he cares about, Toshi's Intelligence is reduced by 1 Tier and his stamina is raised by 1 Tier. When activated Toshi's chakra seems to almost come alive as it begins to physically manifest. [Costs 5 CP]

Hidden Voracity - Strength: At the sight of his own blood or the blood of someone he cares about, Toshi's Intelligence is reduced by 2 advantages and his strength is raised by 2 advantages. When activated Toshi's pupils constrict to become vertical and more feline. [Costs 5 CP]

Seal-less Combat: Toshiyuki can perform Kuchiyose techniques without hand seals. However, this is only gesture-less casting. He must still "charge" his chakra and follow the other "tells" or triggers such technique requires. [Freebie UA]
Heart Like a Waterfall: A player may provide an additional 5 experience bonus when being a sensei or team leader in a thread. However, the player loses that 5 experience when performing missions.

Meld among the Meek: Those searching for or tracking Ryuutei in crowded areas suffer a -1 advantage penalty to their Perception/Intelligence (whichever is relevant) because of Ryuutei's meek and rather unremarkable appearance. Being meek and generally socially anxious though, Ryuutei's struggle to look people in the eyes gives him this same -1 advantage penalty to Perception/Intelligence (whichever is relevant) while searching for or tracking people in crowded areas.

Blood of the Bakeneko: A sign of his Ryuutei heritage, Toshi's teeth are unnaturally sharp and his cuspids are extended. [Purely Aesthetics]

Appearance: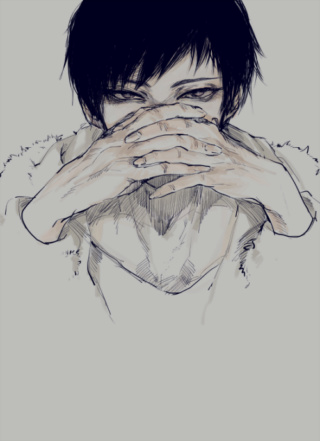 Toshiyuki is easy to miss in a crowd lacking any significant features has shaggy brown hair that is always well kept and maintained, but is never styled with the soft velvety mess more often than not resembling bed head then anything else. The dull mahogany eyes he has that are rather actually rather rare in his clan seem to almost shift depending on his out fit and the lighting sometimes even seeming more like a rich, chocolaty red when hit by light at the right angle. His tan skin and rough hands show a work ethic not quite reflected in his build, disposition, or face, and are the result of many, many long days at work. His posture is demure and meek, but behind his crooked smile is a set of sharp fangs.
Lacking the generally imposing stature of the other Ryuutei clan members, Toshi only stands at borderline 2 meters tall at 191 cm, and weighs 69 kg. Though with the combination of his bad posture and how tightly he usually constrains his personal bubble, he rarely takes up much space.
History:
Toshi is most easily defined, and most often defines himself in relation to his clan. From birth he was different able to read, walk, talk, and use chakra well before may others his age, and for a time he it was believed that he would be a rising prodigy. Even at an early age though, he was reserved and gentle and therefor wasn't receptive to the training provided by his clan members. It wasn't long before the clan's disposition toward him quickly shifted as he failed to meet their expectations, and the rumor of him being the product of his mother's infidelity became a point of contention. This frustration was increased by is lack of Ryuutei physical traits, how much he doted on his two younger siblings, and his distinct disdain for violence. It grew like a tumor until it was not just between his clan and his family, but also between his parents.
Shortly before he entered Kiri's academy, Toshi had an incident in an adulthood ritual, and was forevermore banned from being named. He was summarily exiled from his clan, presumably to dispel tension and prevent in-fighting as a result of his misconduct. This meant distancing himself from his family. To this day the oldest of Toshiyuki's two brothers, Hirohiko, views him with a distaste and disdain that borders hatred because he marred the family's honor leaving a permanent scar. Through all of this the strong love and respect Toshi had for his clan and his family never wavered or faded, as he understood their decisions were for the best, and, even when he wanted to deny it, acknowledged that he was the one at fault.
After graduating from the academy, without the guidance and training from his clan Toshiyuki became a rather unremarkable ninja. Though he never was receptive to the base and carnal field training, he absorbed a vast amount of knowledge from the master tacticians that the clan was rather well known for. From them he learned about all aspects of battle from weather, to tactics, to terrain, to seafaring. This and his ability to easily blend in made him an expert candidate for missions involving tracking, subterfuge, and information recovery/destruction. The brand of "Nameless" embedded itself deep into the genin's subconscious, and shackled him into mediocrity.
Personality:
Though born to the feared and prestigious Ryuutei clan, Toshiyuki was from the beginning lacking in the feral voracity of his clan. Toshi is as pacifistic as can be expected of a shinobi, often leaving even the most heinous of scum battered, bruised, but basically spared of any long term injuries. Toshi's demeanor would easily be described as very serious and earnest, especially when confronted by figures of power or higher rank. Even when he believes himself to be right, Toshi will go against what he knows and conform to the whim's of others because he fears he would be unable to bare the burden of being wrong.
In his free time he enjoys simple activities like fishing, reading, and tending to his bonsai tree, Yon. He generally lives a peaceful life, and wishes that for all of those around him. Above all else he values and cherishes his home, The Hidden Mist and The Land of Water alike, and would like to see them be as fruitful and prosperous as possible. Though he may be but a single, small drop in the the torrent, it is the rain and the rivers that follow that perpetuate all life in an ecosystem, and just being a part of that, however small, is enough for him as he prefers a slow-paced, laid back lifestyle. He is easily bribed with seafood and dairy, especially any of the delicacies of Kirigakure, and is able to name most of their fish (even those not suggested for consumption) by taste and appearance.
Roleplay Sample:
[Starting at Genin]
Face claim:
Orihara, Izaya - "Durarararararara!"