Name:
Tatsu Kotoshura
Age:
16
Gender:
Shapeshifter (So who knows?)
Village:
(Curently: Konoha (Previously Iwa till just before the attack of the Kyuubi).
Rank:
B - Jounin
Title:
Voice
Ayame
(Tatsu's Main Female Form.)
Tom Hiddleston doing a sexy voice to make math sound sexy (This same tone, pitch, and reverb).
(Tatsu's Main Male Form.)
Theme Songs:
Daft Punk, Get Lucky
LFO, I Wanna Sex You Up
Uptown Funk RWBY AMV
Feel It Still RWBY AMV
Combat Songs:
20% Cooler RWBY AMV
Na Na Na - MCR, RWBY AMV
Clan:
Kotoshura
Bloodline:
Blast (Bakuton) : Explosive Combat (bought); Explosive Clay Stage 1 (bought); Explosive Clay Stage 2 (Bought) (1,000 XP)
Element(s):
Doton, Raiton (BL Element: Bakuton)
Skill(s):
Chemistry, Weapon, Engineering, Fuuin, Ninjutsu, Ijutsu, Buki.  
[Ninjutsu Affinity: Non-Elemental Ninjutsu]
(Sacrificing 3 Stat Raises for 3 Skill slots)
Stats
(2,500 = 1,500 after BL) 1,000 + 1,450 UA Debt: 2,450 - 1050 (All D's): 1,400 - 600:


Strength: D (150)

Constitution: E

Stamina: B (950)

Speed: E

Coordination: D (150)

Intelligence: B (950)

Perception: E

Total Stat raises: 11 / 17 (sacrificing from the 20 max).             
XP Debt: 1,200 (paid : 250 XP)
(1,050 (brings everything to D); 1,000 BL (2050) for BL; 3,200 brings up 4 Ds to Bs,. (5,250) - 900 Bring 3 D to C (6,150) - 2500 (start): 3,650 UA XP Dept
Unique Abilities:All quotes taken from Tatsu's experience from the Iwa Civil War.Shifter's Cost:
"What do you mean you mean is this my real form? Why should it matter? After all reality is what you make of it. To me all my forms are real, doesn't matter if it is or not."
Tatsu starts out with 20 CP taken off the average at the start of every thread, with a 0.5 CP Upkeep / post.
But is able to shift from one form to another without going to its body in between, and doesn't need to pay to upkeep for the Jutsu (essentially paying it and the upkeep at the beginning of the thread).
Experience Debt:
"Yeah, the war was hell on me growing up. I had to grow up fast, and hard. Push myself daily just to live to see another day while everyone around me died. But because of that constant hell, I became stronger, I was able to build shelters, weapons, and the things those around me needed. But cause of that, I'm still adjusting, and catching up on what everyone would call a normal life. Even if I'm anything but normal."
Tatus has an XP Debt of 1,450. Sure Tatsu grew by leaps and bounds in the war. But it'll take time for Tatsu to adjust to life outside it, before being ready to grow as a person.
Full Throttle:
"But honestly? I wouldn't trade it for anything in the world. Because of that endless hell, I forged myself and my talents in my clan's Kekkei Genkai. My blasts are one hell of an experience, and they're stronger because they needed to blast out of hell, to get to where I am today."
Tatsu's Advanced Element, and their tied normal elements. Are 1 Rank Higher in power. Without costing extra. But all ninjutsu not using Baku (Doton and Raiton) are 1 Rank more expensive.
Blast Affinity:
Blast Element and it's tied normal Elements (Doton and Raiton) cost - 1 rank lower CP. While all other Ninjutsu cost 1 Rank more.
Artistic Freedom:
"Well yeah! Of course there were hardships, and sacrifices. But damn did it teach me to be resourceful, and reach beyond what I thought was possible to make the best out of bad situations. From those moments of pure artistic bliss, I was able to reach new levels of understanding and skill in both body and mind. At least for a short while."
Tatsu is a master at
MacGyvering
, and channeling the mind to great feats while Tatsu's body's ability to keep up goes way down. Or conversely capable of throwing all of the mind into the body, and allowing Tatsu's artistic passion to outstrip the bodies ability to keep up.
Can gain a 1 tier boost to Intelligence or Coordination. While taking a -1 in the other.
This can be used while making chemicals, crafting, fuuin.
(Can't be used in combat unless drunk.)
Buki Bow:
"Talking about bad situations. I learned the hard way that if you don't want to die. You need to do is be able to use all your body to fight, but bows? Those thing are a bitch! But with some finangling I saw that all they were, are another type of weapon. And I'm pretty damn good with weapons."    
Tatsu doesn't suffer the -2 Con for not having Bow Skill, and can compensate with Tatsu's skill at Bukijutsu.
But is unable to move while using a bow, and takes 1 tier additional damage from attacks.
(Cost 5 CP to activate.)
Natural Shapeshifter:
 Tasu has a natural proficiency with the Perfect Copy Skill, and with Tatsu's Artistic Freedom UA and naturally high intelligence. Is able to invent new forms to take from the depths of the imagination. Such as talking cats, or turning into a sword and scabbard with beautiful embellishments, making new people / identities.
[
Note:
On that note. I preemptively claim Perfect Copy Jutsu as one of my Free Jutsu's.
One Hand Seals:
Can cast Seals with one hand. While taking a 1 Tier loss of coordination with that hand.
Prehensile Tongues:
(Anatomy UA) "Yeah the twins really helped me through the rough times. I'm happy that they aren't just handy, but can be measured in cubits."
Extends tongue from her mouth and hands to show just how long and dextrous they are.
Has Orochimaru length tongues in all three of it's mouths. That are as dextrous, and prehensile as his (Oro's) were.
Tongues can extend out 2 meters from the body max (8 meters or more with Soft Body Manipulation or similar body elongating techniques). Said tongues are 1 Tier lower in strength and Constitution than the rest of Tatsu. But have 1 tier higher Coordination (being muscles with no joints or bone weighting it down).
Appearance:Tatsu (Female Form):
Subtly isn't a dictionary in Tatsu's dictionary. She's about as subtle as a sledge hammer with rocket assist, and with a warhead attached to it. And her appearance says about as much.
Her body is full of curves in all the right places. Legs for days, and breasts big enough to be considered S Rank in terms of looks. And whereas most people would cover up their assets, Tatsu dresses to emphasise them, considering each breast a separate legend. Leaving absolutely nothing to the imagination.
Then there's the hair at their ends with the most craziest collection of bright braids and beads. Ending with bright red tassles. Every move, every jiggle, every action sending the tassels to move about. In a way that brings attention to them, and face.
Tatsu (Male Form):
(a close approximation for now. Just think Blonde hair with red frosted tips, and blue eyes. But loads more ripped and toned.)
Where as the female form is toned and sculpted. The male form is ripped, showing off the many years of constant training and pushing himself to the brink and beyond for the sake of the clan. A veritable mountain of tightly honed, and sculpted muscle that ripples like the waves of ocean under his skin.
Every bit the 11 his female form is. But radiating pure, unadulterated manliness and sex appeal. His face while young, has deep soul piercing blue eyes that shine with a friendly intensity. And then there's the voice.
While his female form has a perky, friendly feel to it. His male voice
carries a much different quality to the playfulness Tatsu usually shows.
Alt. Appearances:
Tatsu is an expert at Perfect Copy, not only in copying others but in creating new and unique appearances. Her main forms are:
Neko-Sama: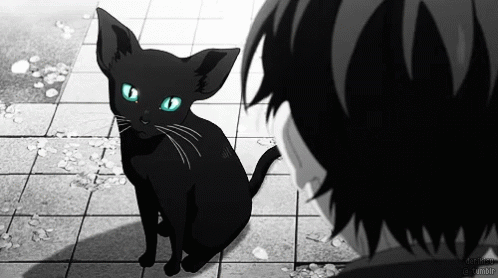 Voice: Fox (Yusuke) from Persona 5
Neko-Sama has a voice as smooth as silk, and is a male black cat with deep cyan eyes, with long ears. With his ability to talk, seems like your average run of the day Ninja Cat.
Others:
It depends on it's mood, artistic inspiration, and need both in the battle field and off. It goes through bodies and forms as if it had no more consequence than changing clothes. And has no attachment to gender, form, or appearance. Anything goes.  
But it does beg the question, is the form it most wears (Female Form) its true form? Or is it simply another of many shape shifted forms? Who, and what gender is Tatsu Shotokura really?
History:
Tatsu Kotoshura, the cousin / nephew of Yui Kotoshura was four years younger than her, and idolized the ground it walked on from afar. Having been claimed a prodigy. Showing a deep mastery at a young age, it was praise well deserved. But Tatsu's parents, while somewhat close to Yui's originally, grew both jealous and angry towardsitstalent.
Something that young Tatsu didn't understand, after all if you were good at something, it should be applauded. Unlike Tatsu's own depraved habit of use of the Bloodline's hands for personal gratification, and as Tatus's parents put it 'depraved corruption of almost anything capable of speech'.
Thankfully Yui soaked up Tatsu's attention and praise. The honest and adoring praise being just what Yui wanted. Having someone around to sing how awesome it was. And Tatsu was always happy to do so.
Then tragedy struck as the stirrings of civil war, and Tatsu was dragged into it. For the next three years Tatsu was pushed to the brink every day, with the family and clan pressuring Tatsu to take it's skills and power further than ever before. All the while witnessing family, friends, and neighbors kill one another on a daily basis.
And over those three years it daily honed herself. Quickly mastering it's clans bloodline, forcing itself to know how to forge their weapons and gadgets, erect shelters, and mastering the art of weapon fighting. Having an uncanny ability with thrown weapons, shapeshifting and a highly creative mind to turn anything in the battle field into a lethal weapon. Quickly rising up the ranks to Jounin as Tatsu aided in both healing, and killing in the battle field. All the while shedding the layers of self for the sake of the clan. Till noone around Tatsu, not even Tatsu itself remembered it's original gender, or form. It was all cast aside for the sake of war.
Then the plague struck, and even with Tatsu's intelligence. The cost it would take to cure it was beyond it, and it's last remaining relatives sent Tatsu out of Iwa to Konoha before it would die, and the talents it honed would be lost forever.
So it was with that, only a few days before the Kyuubi struck. That the young Jounin arrived. Welcomed as family, by the bigger nation, but struggling to adjust to a world not ripped apart by war. But at least a nation where Tatsu's favorite cousin lived, and it could show just how far it'd grown.
Personality:Lust:
The desire to acquire immaterial things. And yes, that includes all forms of pleasure, self-indulgence (self-love), and forms of fun. Although it has perversion, an unquenchable appetite, and corrupting influence on the innocent is what's most on the forefront on the outside.
She's really after all forms of emotional and spiritual greed. Top 10 things it lusts after most, in order of importance:
1) Freedom
2) Happiness
3) Love (of every type, shape, and form).
4) Release
5) Discovery
6) Creativity
7)
All forms of Intimacy.
Although Tatsu's never had numbers 10 and 11.
8 ) Knowledge
9) Sex
10) Closeness
Conessure of Explosions:
All Explosions are messy. But not all lead to death and destruction. Some explosions keep you coming back for more. And Tatsu is a true conessure of all types of booms, bangs, and bay-splosions.
Sensational Artist:
Tatsu is first and foremost a tinkerer, artistic visionary, and a highly creative individual. Even its body is a canvas to which to display its crafts and artistry. From Fuuin, to Chemicals. From Armor to Weapons. To all the myriad of forms it can shapeshift into. Even the way it dresses, shows off its unique artistic spirit. And the genius it has when it comes to putting things together, or all the interesting ways of taking them apart.
Fangirl:
When it comes to things it finds awesome, cool, or exciting. Tatsu goes all fangirl over it. Such as its older cousin Yui, explosions, art, more explosions, sex, ever bigger explosions, drugs, and cataclysmic explosions.
Because it was fun / funny:
If it would serve Tatsu's amusement, or it would get a thrill out of it. There's very little it wouldn't do for a good time. And with Tatsu's medical training and background, there's very few consequences to itself for said good time.
Roleplay Sample:
*** Two years after the start of the Iwa Civil War ***
The compound where the enemy forces were holed up was looking rather well fortified. This while not close to all of them, was still a strategic stronghold, and one Tatsu's side needed if they were to advance further in the war. Tatsu was chosen, not just because it was a master of explosions, mastering all Kotoshura had to offer her, at least in terms of Ninjutsu, with Taijutsu being a close third, but it's ability to shapeshift was so unparalleled, it was uncanny. Both would come into play here.
Tatsu had chose for this mission the form of a small female puppy, having learned the leader of this base had a favorite dog that died shortly before the war. And it was a weakness it was determined to capitalize on. It had taken some begging and whining but her little puppy self was deep in enemy territory. Mugging for food and belly rubs.
Letter her conscious mind wandered, while the puppy form, did puppy things. It had been a little over a year since Tatsu had spent all it's time in one shape or another. With so much personal freedom to be anything or anyone, it didn't take much time before it forgot what gender it originally was, or what it originally looked like. The jutsu now being ran constantly on autopilot, so not even sleep affected the form.
It was freeing in away, to be able to be anything, or anyone. To be able to effectively disappear within a crowd. To have no one within your immediate clan, not even yourself remember what you look like. To be have no boundaries, just as long as you killed who you were aimed at. In a way it was almost as freeing and healing as sex. A reminder that Tatsu was alive, could feel, and had something that couldn't be taken away by the fires of war.
< Tonight! Definitely tonight I'll kill everyone within the compound, but for now? Belly rubs and free food! >
Last edited by Tatts on Fri May 24, 2019 10:30 pm; edited 4 times in total