"Yoko Oni."
Another Kumogakure no Sato Genin was called. Being the host village, the Cloud had more Genin participating in the exams than any of the other villages and minor nations. There were Kumo Genin all over that classroom and not surprisingly Kumogakure also held the record for the number of failed Genin so far. This was only natural, of course. But there was something slightly
different
about this one. Akihiro couldn't quite tell what it was, but she seemed...strange. Almost like she wasn't human although there was nothing wrong with her appearance.
Against his better judgment, Akihiro ignored his gut feeling and motioned Yoko to approach the black door and get in.
"Good luck."
He would simply say, smiling at her. She would then be free to go in and begin her exam.
Like many other participant's rooms, Yoko's was dark. Completely dark, not a trace of light available. She would be alone in the dark, possibly even feeling cold for a couple of minutes until a voice finally spoke.
"*Arrhem*...Let there be light."
And just as it spoke, a tiny dot of light showed up. Then another. Then another. A little by little, the entire room around her was illuminated- although it did not look like a room at all. There were no bounds, no walls, nothing. Just...lights.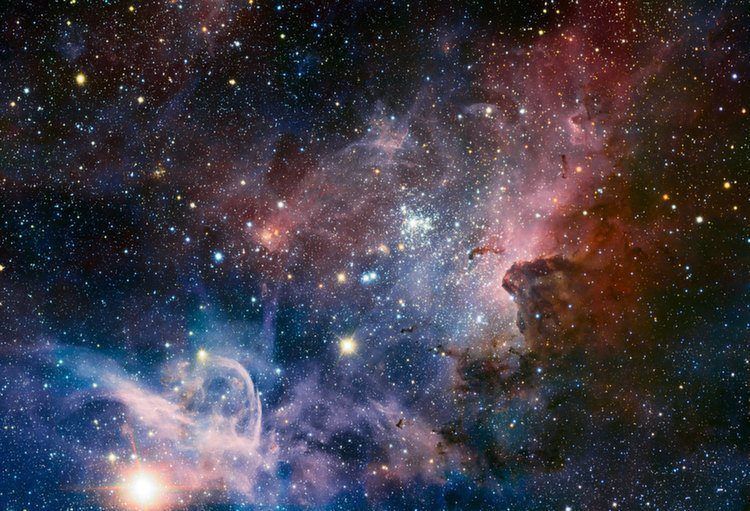 "My apologies. These stars tend to get a bit lazy. My my, you're a rare sight around these parts. Are you...alive? Fascinating!"
The voice spoke yet again. Yoko would seemingly be floating around, unable to feel the ground beneath her feet. In front of her, a man was sitting behind a desk also seemingly floating around.
"Fascinating indeed. This universe has been around for eons and not a single life form has emerged yet. Lazy asses. A shame really, I'm the only one around here. It gets boring after a while, you know?"
He sighed, seemingly feeling down.
"Oh, but right! I was asked to test you! Right, right."
He began scrambling a few notes on paper and searching for yet more papers around his desk. Finally he grabbed a single sheet of paper.
"This one should do!"
And before Yoko's eyes, the sheet of paper would turn into a sword. Wings would grow from the man's back and he would rise from his chair, walk around the desk and seat on it while staring down Yoko. It was now apparent that this man was huge.
"Your task is relatively simple. We are going to play a game. The aim of our game...or rather, *your* aim, is to stay alive.

There will be three rounds. In each round, I will be presenting with you with a fate and then offer two choices. The choices you make determine whether you stay alive or perish. You should always base your decisions on nothing more than the desire to keep yourself in existence. The situation will be as described - there are no "tricks" - and you do not need to worry about other 'what ifs'. I probably don't need to remind you of how important it is for you to stay alive, right? Win the game, and you pass. Lose the game...and...well, if you don't want to take that chance, you'd best leave now. What say you, shall we play?"