Name:
Harurama Senju
Age:
16
Gender:
Male
Village:
Konohagakure
Rank:
D
Title:
The Forest Shinobi
Clan:
Senju
Bloodline:
Wood Release
Element(s):
Suiton (Water), Doton (Earth), Mokuton (Wood)
Skill(s):
Ninjutsu (Mokuton Specialty)
Stats


Strength: C (450)

Constitution: D (150)

Stamina: C (450)

Speed: C (450)

Coordination: D (150)

Intelligence: D (150)

Perception: D (150)

EXP Points:
199
EXP Point Math / Values:
I start with 1650 then took away 1000 for Mokuton and had 650 to spend. Then I gave away 1 skill poin to gain 500 and that brought my total up to 1150
Then I spent 1050 to get my current stats with 100 leftover.
XP Loan of 999 raises my available to 1099.
Spent 1000 points amongst stats lowering my remaining total to 199 upon creation.
Unique Abilities:
Academy Ace (XP):
Haruama spent a long time at the academy. FOUR long years to be exact as he enrolled at the age of twelve. Not only was he super serious and at the top of his class in most cases; the length of his tenure at the academy made sure that he was honed to the best of their ability before graduating. 999XP (Loan) upon registration.
Strength of the Forest:
Harurama is able to channel his Mokuton in such a way as to increase his actual physical strength in sacrifice of some speed.
++Strength
--Speed
5CP Activation
Speed of the Forest:
Harurama has incredible speed when hopping through trees or in a forest of any kind. By using Mokuton to make his body a bit lighter.
++Speed
--Strength
5CP Activation
Forest or Wooded Area Only
Appearance: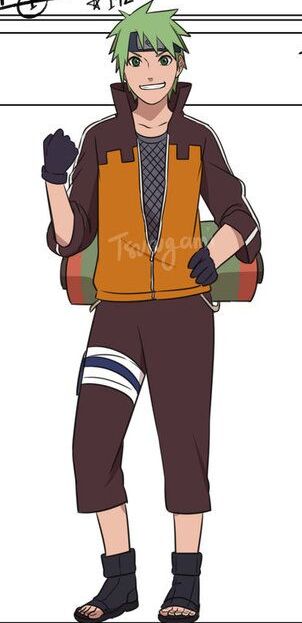 History:
Harurama was born 16 years ago to Wasabi and Taya Senju. He was brought up as the oldest of four kids, but the only one who had chosen the life of a shinobi early on as a kid wanting to enlist in the academy and do great service to the village like the great ninja in the history books. He'd always been fascinated with them not to mention the fact that at a young age he exhibited a freakishly high amount of chakra for his young amount of years. Couple that with the fact that he began to exhibit signs of using the rare Mokuton; Wood Release style jutsu and he was pretty much recruited by the Leaf from his household with daily visits from Jonin speaking to his mother and father.
At first his father was excited about the idea of him becoming a shinobi; one because as a man he would love to see his son become the type of person that most shinobi ended up being. Strong, independent, thoughtful, resourceful; and most of all tough. However Harurama's mother was pretty much against it; not wanting to throw her own boy into danger and harms way as a career path while she only sat back wondering if her son would ever be coming home again.
This continued and grew pretty bad; as even Harurama's father told his son to give up on his dream of becoming a ninja since his mother was adamant. However, what they didn't account for was Haru himself running away and having to be captured by actual ninja since he attempted to leave the village with some half baked plan he didn't actually think through as a 12 year old. Before he'd gotten halfway to the Hidden Mist he would be accosted by Leaf Shinobi aboard some train. During an escape attempt, he actually managed to accidentally use Wood Release; disabling one of the shinobi sent to capture him briefly by catching them off guard.
After being subdued, and returned to the village he had a tearful reunion with his family since he was still only 12 at the time. Giving in and seeing how much it meant to her son that he was allowed to chase his dreams as a shinobi; his mother folded, seeing the error of her ways by standing in the way of someones love or dream, she felt bad but was happy her son was going to get his way in the end deep down. His father was overenthusiastic; comedically so even as they made preparations for his departure to the academy. After a few coming weeks; he'd began his academy studies, four years later and he was a shinobi finally. Although he sometimes was treated rudely or differently because of his Wood Release he was sometimes praised and was the subject of curiosity for it. So it was a double edged sword, a lot of people in the village knew him for better of for worse because of it for the most part. Eventually he began going on missions and attempting to bring the good people of the Leaf more than safety, as his dream was to connect the Leaf to the entire world around them so everyone could actually share; and be at peace.
Personality:
Harurama is a good person, albeit sometimes he can be a bit overly ambitious and wrapped up in some ideal that he feels like he needs to pursue at this time of his life or better yet moment. He is also extremely thoughtful and an excellent planner when he's not caught up in his own ambition or blind determination. When made to think he executes his answer as efficiently as possible after thinking of all outcomes rather than just the one that suits him best. He thinks and cares about all people on a deep level and often wonders how people ended up exactly where they were in life. He also can be a master manipulator if he so chooses too, since he takes the time to know people as well as he can he learns their triggers and buttons immediately and if not very quickly. Perhaps due to some innate ability to understand others well. A gifted and natural born leader; he often is chosen to make decisions for those around him just because he shows his better nature more often than not and is shown to care even sometimes for those he shouldn't. Very trustworthy, unless he has deemed you an 'a-hole', you can count on Harurama to both help you out or finish the mission if need be.
Roleplay Sample:
A beautiful day in the Leaf village, spring was upon them and Harurama was loving it. Taking a walk down the block literally to go and get something to eat at his favorite shop; he would get distracted by a group of kids arguing amongst one another. Something about a ball of some sort. Walking up and keeping quiet to himself, he would stand off to the side within earshot; but not standing out from the big crowd going too and fro.
"It's mine!"
"No I brought it out yesterday how could it possibly be yours!"
"I just enrolled at the academy I'll take it back if I need too!"
"Yeah right you ain't no shinobi!"
As they dove at one another a full tussle broke out as Harurama would curiously watch the fight for a moment wanting to see who'd win, but realized being the nearest actual shinobi around he should break it up. Moving with a simple hand sign, he would cause a wooden wall to literally sprout up out of the ground between the kids as one of them punched it hard while the other ran into it on accident.
"That's enough boys break it up, right NOW!" Harurama would bark, doing his best to sound scary yet not too crazy since they were just kids. As he did this they move from the wall splitting them up as the group of four looked him over. They then barraged him with questions and as he tried to retreat with an exasperated expression the kids only began to chase him through the actual damn streets, ordering him to perform more ninjutsu for them to see.
He would run shouting curse words back at them but actually enjoying the chase for a little bit before stopping the game with a backward smile at the kids and moving too fast for them to hope to keep up with. Ending up on a rooftop after evading the kids; he watched them look around for awhile in search of him in vain before running off. With a smile, Harurama would shake his head and continue hopping on rooftops toward the direction of his favorite sushi joint in the village.