Name:
Uchiha, Koji
Age:
13 Years Old
Gender:
Male
Village:
Konohagakure
Rank:
Genin
Title:
N/A
Clan:
Uchiha
Bloodline:
Sharingan
Tomoe 1
The initial stage of the Sharingan is born of powerful emotions regarding a person precious to them. This can be negative, as in the suffering of the loss of a friend or ally, or even positive, as in the strong desire to protect or reunite with that friend. It is perhaps because of this requirement for their innate power that Uchiha are known as an emotional Clan, with eyes that reflect the heart. Tomoe One requires 500 Experience to unlock, after which point the period of activation can be described at the player's whim. The actual scenario does not need to occur In Character for the Doujutsu to be awakened, and in fact may not be mentioned at all, should the player so choose.  The abilities granted by this awakening lay the ground work for the more powerful potential unleashed at later stages: when activated, the Tomoe One Sharingan increases Perception by two + and affords visualization of chakra. This Perception increase relates only to the Uchiha's ability to see higher speed movement and affords no other perks, such as additional Perception Saves. Eyesight with the Sharingan is as though seeing through a shade of red. All colors can still be made out, but it may prove initially difficult to sort through, especially with the luminous and varying shades of blue that chakra presents.
Element(s):
Lightning Release | Raiton 雷遁
The second least controllable and probably most difficult to master, Raiton involves the heavy vibrating of one's chakra to the point that it becomes electricity, increasing both speed and piercing capabilities. Raiton can act much like real world lightning when wielded in one's hands, but once it leaves the body, it moves far slower than would be expected, similar in speed to Katon. However, utilizing actual lightning can dramatically improve Raiton's potency. When combined with Suiton, its effects can be wide-ranging and catastrophic, but it is weak against the naturally electrical insulating Fūton. Doton can easily be cut through, however, making it weak against Raiton in particular. Kumogakure, located within the Land of Lightning, is the shinobi village most associated with Raiton.
✦ Strong Against: Doton
✦ Weak Against: Fūton
✦ Best Combo: Suiton
Skill(s):
Ninja Techniques | Ninjutsu 忍術
The most famous and practical of the Ninja Arts, Ninjutsu is founded upon the principles brought about by the Sage of the Six Paths and focuses upon the use of Chakra to accomplish a variety of tasks. As the most prominent of the three main Ninja Arts, Ninjutsu is widely practiced among the shinobi and as such comes more easily than other fields, allowing any shinobi to learn up to C-Rank without the Skill, while having the actual Skill represents time and dedication invested into this, beyond the already hefty amount of training that any academy student would devote, granting access to all ranks. Investing in Ninjutsu allows the character to choose one element or non-element they have an affinity towards which applies a one rank reduction in cost for those technique. This does not stack with UAs or enchantments.
✦ Unlock: Access to higher ranked techniques and customs within this skill type.
✦ Perk: Picking this skill results in a 1 rank cost reduction in one element's techniques.
✦ Free: Everyone can use this skill for free up to C-Rank.
Body Techniques | Taijutsu 体術
The most basic and fundamental skill of a Shinobi is hand to hand combat. All know of it at least to some degree, affording the capacity to train D and lower ranking techniques, but only the dedicated can master this field to an art form as well as benefit from a one rank reduction in cost (does not stack with UAs.) While many will consider a punch to only be a punch, a Taijutsu user sees it as an expression of the self, a dance of sorts performed by two equals on a field where the only thing that matters is the fight. Taijutsu covers the broad range of physical combat, ranging from specific styles to special techniques and everything in between. It's a worthwhile Skill for any that find themselves in the heart of danger constantly, as so many factors go into determining one's power; other Skills are dependent upon one or two Stats, but Taijutsu uses them all, making for endless combinations of fighters that aren't proven better or worse until pitted against each other in every possible situation.
✦ Unlock: Access to higher ranked techniques and customs within this skill type.
✦ Perk: Picking this skill results in a 1 rank cost reduction in Taijutsu techniques.
✦ Free: Everyone can use this skill for free up to D-Rank.
Stats


Strength: D

Constitution: D

Stamina: D

Speed: D

Coordination: D

Intelligence: D

Perception: D

Unique Abilities:
Heir Of The Uchiha: Starts with Tamoe 2 (500 additional experience for starting with Tamoe 2)
Flaws:
Heir Of The Uchiha: Starts with tamoe 2, but can't gain any additional XP until his debt is paid down. (using my remaining 100 starting xp to bring that total down to 400 XP into the red)
Appearance: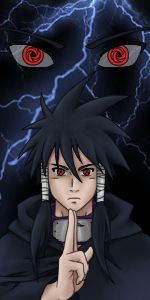 He has black hair much in the trademark of a mix between a couple of hair styles, but ultimately indicative of his linage hairstyle.  The glaring difference is a set of long ponytail sideburns resting along the side of his face wrapped in tape. His eyes carry that black with a grey tint which is also a trademark of his clan. His hair flows down to the mid of his back pulled into a ponytail. He wears his Konoha headband around his neck as more than just a fashion statement. Koji Uchiha sports a black shirt with a raised collar.  The Uchiha symbol is on the back of the shirt. The attire of the boy is complete with matching black shorts with tape wrapped up around his ankles and black open-toe sandals.  The Uchiha himself stands 5'5 currently and is rather slender.  Shinji takes a striking resemblance to his father Seto Uchiha when he was younger indicating that the male genes are often times dominant within the clan.
History:
Koji Uchiha was born to Seto Uchiha and Akane Uchiha. It was a perfect union between an ANBU operative in Seto and in Akane, a Jonin instructor who doubled as a teacher at the academy. It was believed that due to his bloodline, their ability and skill would translate to their son. As the years passed, it became obvious to Seto that some of it was true. But, not all of it. The young man was quite unique among his fellow clan and peers. He grew to become an excellent student at the academy. Aside from natural-born ability, It was also because his mother Akane was the instructor of her son's class. So she was naturally harder on him. However, he isn't unique to his father. Eventually, causing the father to become disinterested in his child for not being able to master the Katon style. He felt that his son was a failure and often reminded him of it.
Akane was more kind toward her son, understanding that eventually her son will master the element. She took far more interest in his development than his father, Often times training with her son while the father was away on missions. The treatment of their son put a wedge between their relationship. However, eventually, Seto would leave home on a mission one day and never return. It was never known if he was killed in action or whatnot. The village assumed he was killed in action. A descendant of the legend known as Rion Uchiha. Who is Koji's grand uncle, making the legend himself the uncle of Seto Uchiha. While this may not be common knowledge to the average shinobi. It is known among the village superiors of the relationship.
Personality:
Personality Traits
Confident
Loyal to Konohagakure
Prideful Of his Bloodline
Rigid in a lot of ways, mostly his perception of the importance of the clan, as well as his methods of learning: which is to relentlessly excel at everything he does.
Headstrong
Wonders about his father
Roleplay Sample: